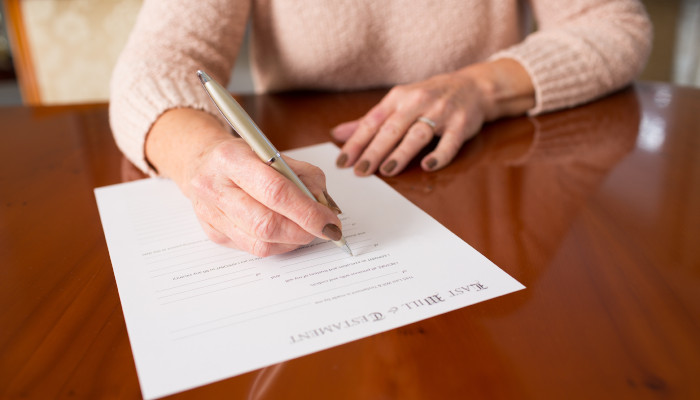 Here in Michigan, a will is an important estate planning tool — one that can allow you to maintain control over the distribution of your property and provide for your loved ones when you are gone. Under Michigan's Estates and Protected Individuals Code (EPIC), there are several different methods that a testator may use to create a valid will, including the often-misunderstood holographic will. 
What Is a Holographic Will?
Under Michigan law, a will is generally considered valid if it meets certain criteria. Namely, for a will to be valid:
It must be in writing.

It must be signed by the testator (or in the testator's name by some other individual if done in the testator's conscious presence and at their direction).

It must be signed by at least two witnesses.  
In broad terms, a holographic will is an alternative way to create a last will that does not require witnesses, though it must generally still meet certain requirements in order to be considered valid — namely, that it is dated, signed, and that the testator's signature and material portions of the document are in the testator's handwriting. A writing may also be considered a valid will if intent that the document constitutes a testator's will can be established by extrinsic evidence. 
Generally speaking, for any will to be considered valid, the testator must be 18 years of age or older and have sufficient mental capacity, which includes: 
Having the ability to understand that one is providing for the disposition of property after death.

Knowing the nature and extent of one's property and "the natural objects of his or her bounty"

Having the ability to understand in a reasonable manner the general nature and effect of signing the will
A will must also be made without constraint or undue influence, such as coercion or manipulation from an outside party. 
Michigan is one of a handful of states that permits and recognizes holographic wills. In fact, EPIC goes one step further, and notes that a writing intended as a will can be recognized if it can be established "by clear and convincing evidence" that the decedent intended the document or writing to constitute a will, a revocation of a will, an addition or alteration to a will, or a revival of a previously revoked will. 
When and Why Are Holographic Wills Used?
There are any number of circumstances that might result in the production of a holographic will. Holographic wills may be used when someone is suffering from a terminal illness, or fears that their death is imminent. For example, someone who is trapped or stranded may write down their last wishes and requests in the form of a holographic will. In other cases, a holographic will in some form may be included as part of a suicide note.
More generally, some people will create holographic wills when they are unable or unwilling to seek out assistance from another party, such as an attorney. For example, some reclusive or housebound individuals may attempt to create a holographic will from home. In other events, it could be done in an attempt to keep personal decisions private from family members or witnesses, or simply out of a desire to go "DIY" and potentially save money upfront, rather than seeking out professional guidance.  
The Challenges and Disadvantages of a Holographic Will
While some people may see a holographic will as an opportunity to get things done quickly, privately, and cheaply, the reality is that they often cause more confusion and difficulties for your estate and your loved ones down the line. 
Holographic wills often face more disputes and contests to their validity than other types of wills. Without witnesses, interested parties may challenge a holographic will on the grounds of fraud or forgery. Ultimately, it may come down to a handwriting expert to prove whether or not the document was actually created and signed by the alleged testator. Similarly, a holographic will may leave other questions and ambiguities to parse, which could lead to will contests — for instance, over whether or not the holographic will was created under coercion or undue influence from an outside source, or whether the decedent had sufficient mental capacity. 
A hastily prepared holographic will may also increase the likelihood for errors or accidents, which could affect the efficacy of the will and the amount of time it takes to administer the decedent's estate. There could be other documents out there that conflict with the holographic will, such as a previous will or other handwritten alterations and amendments. Without the insights and guidance of an experienced professional, someone writing their own will may also commit simple errors and unintentional omissions — such as neglecting to name a guardian for their minor children, forgetting about important assets, or using unclear or inaccurate language which could cause confusion and leave room for interpretation and disagreements. 
Finally, a holographic will may cause issues if the decedent owned property in multiple states, which would require ancillary probate. Because not all states recognize holographic wills, this situation could create some difficulties. 
Ultimately, there are many situations in which a holographic will might create just as many questions as it resolves. In situations where you must defend or contest a holographic will in the probate court, it is important to work with an experienced legal professional who can help you understand the ins and outs of the situation and aggressively advocate for your position. 
The Importance of Working With an Experienced Michigan Estate Planning and Probate Attorney
Whether you are taking care to plan for your family's future or put in the position of defending or contesting a will in the Michigan probate courts, know that you do not have to go through these difficult circumstances alone. 
Ready to create a will that will help you maintain control over your most important assets, and help take care of the people who matter most? Our firm has the experience and knowledge to walk you through the process of creating a last will that will protect your family.
Facing a will contest? Handling all of the steps involved can be complex and time-intensive. A lawyer skilled in probate litigation can help you understand all of your options and navigate through the probate courts with the guidance and advice your matter requires — from doing research and determining the validity of the contest, to filing the proper paperwork at the right time, to aggressively representing your interests in the courtroom should it become necessary.
At the Patrick & Associates, PLLC., we put our legal experience and skills together with our commitment to excellence in representing your rights. You can depend on our law firm's ability to listen to you and our talent for creative strategies. We will be flexible in order to accommodate your needs, and we work hard to discuss these difficult matters in terms that are easy to comprehend. With staff available 24 hours a day, we're also never far from your questions and concerns. 
If you have further questions or are looking for representation as you navigate Michigan's tricky probate court system, don't hesitate to call our Southfield, Michigan office at (833) 469-4897 to set up your initial consultation. You may also click here to get in touch online.
This post has been prepared for general information purposes only. The information you obtain here is not, nor is it intended to be, legal advice. You should consult an attorney for advice regarding your individual situation. We invite you to contact us and welcome your calls and electronic mail.  Accessing the content of this site does not create an attorney-client relationship.  Nor, does contacting us create an attorney-client relationship. Please do not send any confidential information to us until such time as an attorney-client relationship has been established.