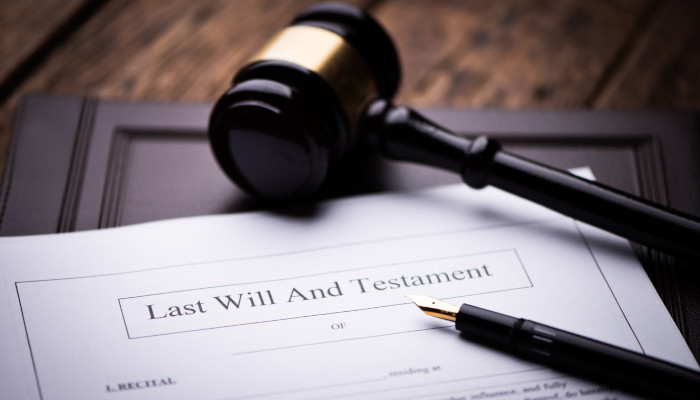 The passing of a loved one is incredibly difficult, and can be made even more so when this tragic loss leads to disagreements and arguments among family and friends. Some matters, such as a will contest, can put family members in opposition to each other — which may add to the level of stress involved in the estate administration process.
In many cases, the terms of a will can be executed smoothly. However, there may also be questions or concerns surrounding a will — such as whether it was created following all legal formalities, whether the document truly is the most current expression of the decedent's wishes, or if there was fraud, forgery, or undue influence involved in its creation. 
In situations such as these, an interested person involved with the decedent's estate may wish to contest the validity of the will. Whether you find yourself in a position to contest, dispute, or defend a last will, it's important to know the ins and outs of this process — including what grounds one might use to contest or dispute a will, how challenges can work, and who you can turn to for help when you need to advocate for your position and represent your interests. 
What Is a Will?
As defined by Michigan's Estates and Protected Individuals Code (EPIC), a will is a "testamentary instrument" that can serve several important functions, including appointing a personal representative (this is the person who is responsible for settling the decedent's affairs and overseeing the administration of his or her estate), nominating a guardian, and determining how the decedent's probate assets will be distributed upon their passing. 
Beneficiaries who are designated to receive real or personal property through the will are known as devisees. The person who creates the will is known as the testator.
When a person dies in Michigan, his or her will must be filed with the probate court for the county in which they resided. This begins the estate administration process, which is often referred to simply as probate. Broadly speaking, this involves gathering the decedent's assets, paying off or resolving claims to the estate and final expenses, and then distributing any remaining assets to the appropriate people or parties.
If the person passes without a will, this is known as dying intestate. In this event, the probate court will determine how the decedent's estate will be handled and their property distributed, following a strict order of succession. A person entitled to receive property under the statutes of intestate succession is known as an heir. 
Who Can Contest a Will?
Broadly speaking, for an individual to have standing to contest a will, they must be an "interested person" for the estate. This is a broad category that includes devisees, children, spouses, and intestate heirs — essentially, anyone who has a right in or claim against the estate of the decedent. 
More specifically, a will contest can be filed by a party who would be directly impacted if the will were to be deemed invalid. Most commonly, this refers to devisees listed on the contested will; a beneficiary who was named in a previous version of the will; or an intestate heir who would have been in a position to inherit a share of the estate had the decedent passed without a will, such as an omitted child or spouse. 
It is worth noting that some individuals attempt to execute a "no contest" or "penalty" clause in their will, which purport to penalize an interested person for contesting the will or instituting other proceedings related to the estate. However, Michigan law renders these unenforceable "if probable cause exists for instituting proceedings."
What Are the Grounds for Contesting a Will in Michigan?
There are several different reasons why a contestant may challenge a will during probate. Most commonly, individuals file contests due to issues in one of the following categories: 
Lack of Testamentary Intent or Capacity
In order for a will to be valid in Michigan, the testator must have sufficient mental capacity at the time of its creation. An individual is said to have sufficient mental capacity to make a will if he or she: 
Has the ability to understand that they are providing for the disposition of property after death

Has the ability to know the nature and extent of their property

Knows "the natural objects of his or her bounty" (that is to say that he or she understands who their surviving relatives are, and who may be entitled to property as an heir)

Understands in a reasonable manner the general nature and effect of his or her act in signing the will 
Keep in mind that the probate court will be considering the mental capacity and state of mind of the testator at the time that the will was created — not at the time of death. 
Improper Execution
Generally speaking, an individual may have grounds to contest a will if a mistake or error was made when the will was being created. Broadly, Michigan law requires a few components for a will to be valid in most circumstances, including: 
It must be in writing

It must be signed by the testator in their own name (or by another individual in the testator's conscious presence, and with their clear direction)

It must be signed by at least two individuals, each of whom must sign within a reasonable time of witnessing the signing of the will or receiving the testator's acknowledgement of the will
The same requirements generally apply for a codicil to a will (this is an update or addition to the will which might clarify, modify, or revoke all or part of it). 
However, Michigan law also makes provisions for other circumstances, which can make determining the most up-to-date and accurate version of a will trickier in some instances. For instance, there is a provision that a document which does not apply with the above standards may still be considered a valid holographic will if it is signed, dated, and written in the testator's hand. In other cases, a writing may be considered valid if it can be established through clear and convincing evidence that the decedent intended the document to create, alter, or revoke their will. 
Undue Influence or Duress
A contestant may have grounds to dispute a will if they suspect that the testator created it under undue influence or duress. Broadly, this suggests that the testator was manipulated or forced into signing a will against their wishes, usually by someone who would stand to benefit if the will were modified in their favor. Some tactics used to exert undue influence might include physical abuse, threats of violence, blackmail, separating the decedent from their family, or even withholding food or medication. 
Fraud or Forgery
Michigan law is clear that the will must be signed directly by the testator, or under their clear direction. An individual may have grounds to contest a will if they believe that the testator was deliberately tricked into signing the document — for instance, if someone lied to the decedent, telling them they were signing another document instead of a will. Fraud may also apply in situations where someone misrepresents the circumstances and specifics of the will to the testator — for example, by telling them that the document they're signing says one thing, when it really indicates something else entirely. A contest on the grounds of forgery may apply if someone attempts to create documents under the testator's name, or if signatures from witnesses have been falsified. A key factor in litigation over a forged will is a handwriting expert. Thus, an attorney's ability to act quickly and retain a respected handwriting expert is a critical aspect to this type of case.
Revocation
A will may be contested and ultimately rendered invalid if it can be shown that there is another valid will or codicil executed on a later date, which would replace the terms of the earlier document. 
If a person interested in the estate believes that they have grounds to contest a will, they must file their objections with the probate court in writing. Under Michigan law, a contestant of a will has the burden of proof for establishing lack of testamentary intent or capacity, undue influence, fraud, duress, mistake, or revocation; they also have "the ultimate burden of persuasion" for the matter.
Getting Help With Will Contests: The Importance of Working with an Experienced Probate Attorney
If you are questioning whether you have grounds for contesting a will or are interested in learning more about the process — including the requirements for filing a challenge or the time frame involved in doing so — it is incredibly important to speak with Dean E. Patrick, an experienced Michigan probate attorney.
The steps involved with contesting a will can be complex and time-intensive. A lawyer skilled in probate litigation can help you understand all of your options and navigate through the probate courts with the guidance and advice your matter requires —from doing research and determining the validity of your contest, to filing the proper paperwork at the right time, to aggressively representing your interests in the courtroom should it become necessary.
If you are facing the possibility of being confronted with an estate, will, or trust contest, you can rely on our firm to aggressively advocate for your position — whether you are a spouse, child, beneficiary, creditor, or personal representative involved in the contested probate matter.
At the Patrick & Associates, PLLC., we put our legal experience and skills together with our commitment to excellence in representing your rights. You can depend on our law firm's ability to listen to you and our talent for creative strategies. We will be flexible in order to accommodate your needs, and we work hard to discuss these difficult matters in terms that are easy to comprehend. With staff available 24 hours a day, we're also never far from your questions and concerns. 
If you have further questions or are looking for representation as you navigate Michigan's tricky probate court system, don't hesitate to call our Southfield, Michigan office at (833) 469-4897 to set up your initial consultation. You may also click here to get in touch online.