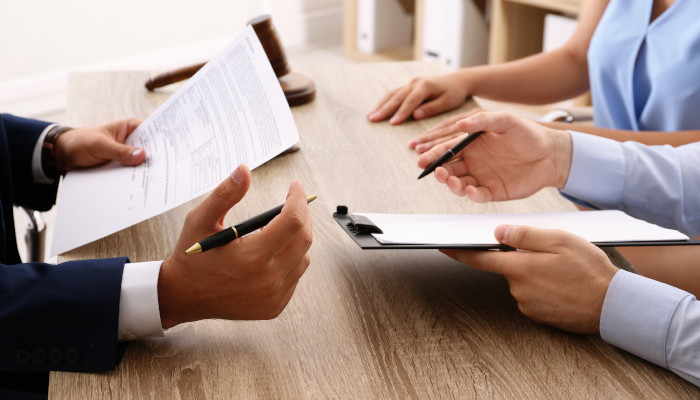 What would you do if you found yourself in a position in which you needed to act on behalf of an incapacitated spouse, parent, or sibling — or required someone trustworthy to carry out your wishes and manage your affairs? To navigate these tricky situations with confidence and peace of mind, it's crucial to understand some key concepts, including guardianship, conservatorship, and powers of attorney.
Looking to the Future
Planning for the future can be intimidating, even downright scary. While it's never fun to think about what might happen if you or someone you love were to sustain a major injury or succumb to illness, it is a necessary step — and one that can make difficult situations much easier to manage down the line for you and your loved ones.
Considering the best path for managing your affairs if you become gravely ill or incapacitated? There are several important precautions you can take to help ensure that your wishes are respected and carried out efficiently, in a way that protects your family's privacy, maintains family control, and helps you attain your most important goals.
Similarly, if you are one of the millions of people here in Michigan and around the country caring for an aging parent or spouse, you may be wondering about the best way to ensure that their finances will be managed, their well-being taken care of, and their wishes carried out when they can no longer make or communicate informed decisions for themselves.
Whether you are planning for your own future or looking to help out a loved one who cannot take care of themselves, it is important to understand the mechanisms that may come into play — including guardianship, conservatorship, and powers of attorney.
As you look forward, it's particularly crucial to understand what sets powers of attorney apart from guardianship and conservatorship. With this knowledge, you can get a better grasp on all of your options and find the course of action that will be suited to your unique circumstances.
Guardianship
When an individual cannot make or communicate informed general care decisions for themselves, a guardianship may be established through the probate court.
Broadly speaking, a guardian is a substitute decision-maker for an incapacitated individual (known as the "ward"). Guardians are responsible for looking out for the general well-being and care of their ward, as necessary.
Depending on the specific needs of the ward, a guardian's powers can be quite broad or fairly limited. Michigan law is designed to "encourage the development of maximum self-reliance and independence in the individual," and allows for guardianships to be closely tailored to the individual's unique situation.
Accordingly, Michigan's Estates and Protected Individuals Code (EPIC) states that "the court shall grant a guardian only those powers and only for that period of time as is necessary to provide for the demonstrated need of the incapacitated individual." A court order establishing a guardianship must also specify "any limitations on the guardian's powers and any time limits on the guardianship."
Depending on the powers granted by the court, a guardian generally has the responsibility to provide for the individual's care and comfort, including providing suitable food, clothing, and shelter. Guardians may also determine where another individual lives, apply for and obtain services on their behalf, and authorize or refuse medical treatments, unless other provisions are made (such as a patient advocate designation in a durable power of attorney for health care).
Keep in mind that guardianship is a legal process, which requires going before the probate court. In order for a guardian to be appointed, a concerned individual — which could be the incapacitated individual, or any person interested in their welfare, such as family member (or in some awful cases, the management of a nursing home that just wants to get their patient qualified for Medicaid to pay their bill) — must file a petition, explaining why the guardianship is needed.
After this, a hearing is held to consider the request, and a judge will determine whether or not a guardianship is needed, who will serve as guardian, and what powers the guardian will have. A hearing can be contested if the incapacitated individual does not want or agree to the guardianship, or if there are concerns or disagreements about who should serve as guardian.
Conservatorship
Broadly speaking, a conservator is a person appointed by a court to manage a protected individual's estate and finances. Conservatorships are established when an individual can no longer effectively manage his or her own property and financial decisions.
Whereas a guardian is broadly responsible for making medical, housing, and other personal decisions about the person, the conservator is responsible for the care and preservation of all the individual's assets and property. The same individual can be appointed to serve as guardian and conservator, or these roles can be delegated to two different parties.
As with guardians, conservators must be appointed through the courts. In order for a conservator to be appointed, a petitioner must file with the probate court. The court will then investigate the facts of the situation, and a hearing will be held to determine if a conservatorship will be necessary, and, if so, to select a suitable conservator who will be willing and able to serve.
In order for a conservator to be appointed, the court must find that the individual is unable to manage property and business affairs effectively for reasons such as "mental illness, mental deficiency, physical illness or disability, chronic use of drugs, chronic intoxication, confinement, detention by a foreign power, or disappearance, and that
the individual has property that will be wasted or dissipated unless proper management is provided, or money is needed for the individual's support, care, and welfare or for those entitled to the individual's support, and that protection is necessary to obtain or provide money.
Anyone interested in an individual's estate, affairs, or welfare may petition for conservatorship, along with anyone who may be negatively affected by ineffective management of the individual's property. An individual can also request the appointment of a conservator for themselves, if they recognize that they are unable to manage their property and affairs effectively due to age or physical infirmity.
Powers of Attorney (POA)
Broadly speaking, a power of attorney is a written instrument that gives legal authority to a third party (known as the "agent" or "attorney in fact") to act on the behalf of someone else (known as the "principal"). In estate planning, power of attorney (POA) is a tool that can be used to ensure that someone you trust manages your financial and health care decisions when you no longer can.
With powers of attorney, you can exert a great deal of control over your chosen agent, granting them broad power to make decisions on your behalf, or limiting their scope to only a few pressing matters.
When you're considering your future or thinking about estate planning, it is imperative that the power of attorney used can be classified as a "durable" power of attorney. A durable POA contains specific language that ensures your agent can act even if you become incapacitated, while keeping the power in your hands for as long you can make decisions for yourself.
In Michigan estate planning, there are several important types of powers of attorney to know, including:
Durable Power of Attorney for Finance. This is a legal document that gives the agent of your choice the right to handle your financial affairs if you become incapacitated, including transferring assets into a trust, pursuing claims or actions on your behalf, managing business affairs, selling property, and more.
Durable Power of Attorney for Health Care. This is a legal document that gives someone of your choosing the right to handle your health care decisions if you become incapacitated, including treatments and end-of-life decisions. This person is known as an agent or patient advocate. A durable power of attorney for mental health, similarly, names an advocate to handle your mental health care decisions if you become incapacitated. A patient advocate is obligated to act in your best interest and take reasonable steps to follow all of your expressed desires, preferences, and instructions relating to your care.
Creating powers of attorney does not require the involvement of the court. As long as you are of sound mind and body, you can execute a valid durable power of attorney by signing the document in front of a notary or two witnesses. If you want to keep the courts and public out of your business, powers of attorney are most likely right for you.
Guardianship V. Conservatorship V. POA: Key Points to Consider
Now that we've discussed the basics behind guardianship, conservatorship, and powers of attorney, we can explore their unique potential advantages and disadvantages — and how these different elements may fit into an overall estate plan.
Whether you are taking steps to prepare for your own future, or have concerns about a family member's ability to make important financial and personal decisions down the line, it is highly important to create powers of attorney while you are able to do so.
A power of attorney grants you a significant level of control over who will make decisions on your behalf should you become incapacitated, without having to go to the courts. Powers of attorney also give you significant control over the scope of the action that your agent or advocate can take. Because they can be handled without a judge, powers of attorney can help safeguard your privacy, while saving you and your loved ones a significant amount of time and effort.
Significantly, powers of attorney can also help guide a court's decision on guardianship and conservatorship hearings. When considering the need for guardianship or conservatorship, the court must consider whether there are appropriate alternatives to the appointment of a guardian or conservator such as valid patient advocate designations, do-not-resuscitate orders, physician orders for scope of treatment form, or durable power of attorney with or without limitations on purpose, authority, or duration.
Importantly, a principal may also use a durable power of attorney to nominate a guardian for consideration by the court. This approach gives an individual the ability to nominate who they would want as guardian or conservator instead of leaving it to the court and Michigan Law.
When appointing a guardian, the court makes selection in a certain order of priority, with preference going to a person chosen by the individual, or a person nominated as guardian in a durable power of attorney or named as a patient advocate.   With proper planning, this order of priority can be altered as you see fit.  Perhaps you have a friend who is better suited than a family member (or no family at all) to handle these important decisions.
If no person is chosen, nominated, or named, however, the role of guardian may fall to the individual's spouse, adult child, or another relative. Ultimately, if no one from the incapacitated individual's family is willing or suitable to serve, the responsibility may go to a person nominated by the petitioner, or a professional guardian chosen by the court.
A similar process occurs with conservatorships, with priority to serve granted to an individual or corporation nominated by the protected individual, including a nomination made in a durable power of attorney, followed next by the individual's spouse, adult children, and relatives. With conservatorships, a person nominated may also designate a substitute to serve in their stead, subject to approval by the court. The court may also appoint a professional conservator if no one else is willing or suitable to serve.
A power of attorney, then, is a way to help ensure that someone you know and trust will be empowered to handle your financial or health care decisions — not a court-appointed guardian or conservator. If you do not take control when you can, you are leaving some incredibly important decisions up to the courts. Think of powers of attorney as a form of insurance. While we all hope we don't need to use the insurance we pay for, we are glad it's there when we need it. You do not give up control of your affairs while you still have the capability to manage them, but can sleep well knowing you have a plan in place in case you do not.
Finally, it's important to remember that even under the best of circumstances, the legal proceedings around guardianship and conservatorship can be complex and time-intensive for everyone involved. These matters are highly emotional and the rules involved can be confusing and difficult to navigate — particularly when questions or disputes arise.
The decision to appoint a conservator or guardian for an individual is a very serious matter, since, ultimately, the Michigan probate court will take away basic rights from an individual. It is intrusive by nature and comes with long-term duties and responsibilities — and is not something to be taken lightly.
Keep the Discussion Going with Metro Detroit's Probate and Guardianship Attorneys
Interested in learning more about guardianship and conservatorship in Michigan?  Ready to start preparing for the future, and take control over who will make important decisions in the event that you become incapacitated?
For all these important matters and more, it's wise to have an intelligent and experienced lawyer at your side, fighting for your rights and the well-being of your loved ones.
Our skilled law firm is here and ready to assist with all of your incapacity planning and probate needs, including guardianships, conservatorships, and powers of attorney.
If you require further legal advice or if you are looking for representation as you navigate Michigan's tricky probate court system, don't hesitate to call our Southfield, Michigan office at (833) 469-4897 to set up your consultation initial consultation. You may also click here to get in touch online.
At the Patrick & Associates, PLLC., we will work hard to accomplish your goals, while handling your matter with professionalism and expertise. Mr. Patrick can help you navigate through all the legalities and formalities, so that you can rest assured that you and your loved ones will be taken care of, whatever life brings.