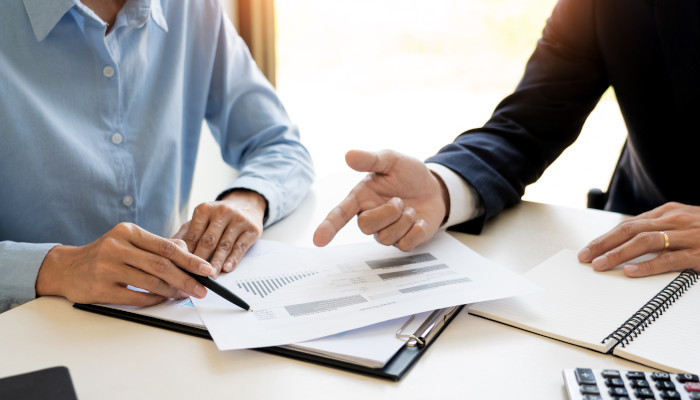 There are many myths and misconceptions out there about estate planning. That it's only for the wealthy, or for older adults. That being married or having a will guarantees that your estate will avoid probate. That professional estate planning advice is going to be expensive, or out of reach.
In reality, estate planning is one of the most important things you can do to protect yourself and the people you care about in the future. 
Over the course of a lifetime, we acquire assets. When we pass on, those assets remain and they will be reallocated. The question is whether or not you will have a say in the matter. Having a comprehensive estate plan keeps you in control should you ever become incapacitated, and even when you're gone.
Still, it's easy to be intimidated by the idea of estate planning — and if you're nervous about getting started, know that you're not alone. 
In a 2020 study from Caring.com, 60% of people surveyed say that they think estate planning is important, but significantly fewer actually have any estate planning documents in place. In fact, Caring found that less than one-third of all survey respondents (32%) had one or more estate planning documents ready to go.
That includes older adults. Indeed, another recent study from Merrill Lynch and Age Wave found that "nearly half of those over 55 have not yet created a will," and that only 18% of people in that age range "have all of the recommended legacy plan essentials," such as a will and a durable power of attorney. Meanwhile, this study found that 43% of people 55 and over are worried that they "lack an advocate to look out for their best interests toward the end of their life."
One way to start moving forward with estate planning is to get a better sense of the ins and outs of this process — including the benefits of having an estate plan, and the steps you can take to get started in the near future. One approach is to understand the "five W's" of Michigan estate planning: "who," "what," "when," "where," and "why." 
What Goes Into Michigan Estate Planning?
Estate planning is a way to prepare for whatever the future may hold. With a thorough estate plan in place, you are in a better position to maintain control of your most important assets, and have a say in the matters that will directly impact your family and friends. 
Here in Michigan, there are a variety of  estate planning instruments that can help ensure you can maintain control over your most important assets, even when you are gone or otherwise unable to speak on your own behalf. Some common estate planning instruments include: 
Wills
A will is a document that allows you to control the distribution of your property, in order to help ensure that your assets are distributed according to your wishes when you have passed away. In addition, a will gives you the ability to nominate someone you trust to handle your affairs in the probate court; nominate a guardian to handle the care, custody, and control of your minor children; and nominate a conservator to handle the financial affairs of your minor or incapacitated adult loved ones. When executed properly, a will can help facilitate the probate process and minimize the potential for contests and disagreements among family after you are gone.
Trusts
A trust is a legal arrangement which names an individual who is responsible for managing your property, as directed by a trust agreement. Along with a will, a trust can help your estate avoid the potential for lengthy probate issues; protect your assets from certain taxes and fees; and ensure that you are safeguarding the finances of your children or loved ones with special needs. There are many different types of trusts, which can be used to suit your needs and goals. If you're interested in learning more about trusts, it is important to speak with an experienced local attorney, who can help you assess the contents of your estate, weigh all of your options, and ensure that all legal formalities are addressed as you create the trust that will work for your circumstances. 
Powers of Attorney
In estate planning, a power of attorney is a tool that can be used to ensure someone you trust manages your financial and health care decisions when you no longer can. A power of attorney is a writing that gives legal authority to a third party (known as the agent or advocate) to act on the behalf of someone else (the principal); a durable power of attorney allows the agent to act even if the principal becomes incapacitated. There are several different types of power of attorney to consider, which grant your agent different responsibilities — including a durable power of attorney for financial matters, and a durable power of attorney for health care. 
Understanding the tools that you might use as part of your estate plan will depend on the specifics of your circumstances, such as the amount and type of assets you own, the unique dynamics of your family, and the level of control you wish to maintain. Discussing these factors with an experienced estate planning and probate attorney can help you understand and account for the unique variables of your situation, and create a plan that truly works for your goals. 
Who Should Consider Estate Planning?
As mentioned earlier, there is sometimes a misconception that estate planning is only beneficial to the wealthy, or something that should only be considered later in life. In practice, estate planning is for everyone. 
There are estate planning steps you can take at every stage of adulthood, whether you are single or married, working or retired, planning for parenthood or intending to remain childfree. 
Estate planning is a vital consideration for anyone who owns real estate or valuable property. It is an important step in making a difficult transition easier for your family and friends, even if you are unmarried. For example? If you are cohabitating with a partner, your estate plan can help ensure that your significant other gets a fair share — rather than leaving such important decisions up to Michigan's strict and impersonal rules of intestate succession. You can also use your estate plan to cement your legacy, and make contributions to the people and organizations that matter most to you. 
Finally, it is important to remember that at a minimum, we should all plan for incapacity. Like it or not, the reality is that no one is impervious to the possibility of facing a disease, an accident, or a catastrophic illness. If you become incapacitated and someone must make financial or healthcare decisions for you, you and your loved ones may be subjected to the burdensome process of "living probate." 
When Is the "Right Time" to Get Started?
Broadly speaking, there is no single "best" time to get started with estate planning. The most important consideration is that you start the process early, before you face a personal challenge that can make it harder to give these important decisions the space, focus, and time they deserve. 
Creating or updating your estate plan is something to keep in mind during some of life's most meaningful moments, like buying a house, getting married or divorced, bringing a new child into your life through birth or adoption, or getting ready for retirement. 
It is also important to remember that estate planning is an ongoing process, and there are many steps you can take to update, supplement, or modify your estate plan over time — particularly as you build wealth, or if your personal relationships and circumstances change over the years.
Bottom line? The only things that go away with time are snowflakes, youth, and opportunities. You have an opportunity to plan for yourself and your loved ones. Don't let it pass.
Why Is Estate Planning So Important?
Estate planning is a way to keep control. 
Big picture? Having an estate plan in place allows you to distribute your assets in an appropriate manner for your circumstances; protect your children and other beneficiaries; minimize the potential for family conflicts; direct how you will be treated if you become incapacitated; and save time, money, and stress for your loved ones by avoiding or simplifying probate. 
More specifically, estate planning can help to:
Assure that inheritance does not become a detriment to your beneficiaries

Ensure that someone you can rely on is appointed to handle your assets and affairs

Reduce or eliminate estate taxes

Maximize the assets available to your beneficiaries when you have passed

Minimize or eliminate the cost of probate fees

Assure your children will have a guardian of your choosing if you are unable to raise them

Provide you peace of mind in the present, knowing that you have taken action to minimize stress and financial hardship for your loved ones 

Make sure that your partner gets the assets and control you want them to have

Allow for immediate distribution of your assets
Where Can You Turn for Guidance and Answers?
When you have a foot problem, you go to the podiatrist. When you have a heart problem, you go see the cardiologist. When you want to begin estate planning or are forced into the probate courts, you need to go to an established probate and estate planning attorney.
That's where we come in. 
Attorney Dean Patrick is a licensed Michigan lawyer specializing in probate and estate law. He has the necessary knowledge to provide the specific, individual legal advice and assistance that can make your life a little easier. His knowledge of Michigan probate law ensures you will get the legal help you need when it's time to take care of any aspect of your estate plan.
How an Experienced Michigan Probate Attorney Can Help
Whether you have decided it's time to plan for your family's future, you have any probate-related issue that has interrupted your life, or you have another pressing legal matter that requires attention, we will work hard to accomplish your goals while handling your matter with the professionalism, expertise, and compassion it deserves. 
If you have questions about any type of estate planning tool or technique, we are here for you. Do not hesitate to contact Michigan estate planning attorney Dean E. Patrick at (833) 469-4897 or get in touch online to set up your initial consultation on all matters relating to estate planning, including:
Our office is conveniently located in Southfield, Michigan and our staff is available 24 hours a day, 7 days a week to receive phone calls and help you with your legal matters. During COVID-19, we are open and available to continue serving all of your estate planning and probate law needs, while maintaining safe working practices.
This post has been prepared for general information purposes only. The information you obtain here is not, nor is it intended to be, legal advice. You should consult an attorney for advice regarding your individual situation. We invite you to contact us and welcome your calls and electronic mail.  Accessing the content of this site does not create an attorney-client relationship.  Nor, does contacting us create an attorney-client relationship. Please do not send any confidential information to us until such time as an attorney-client relationship has been established.