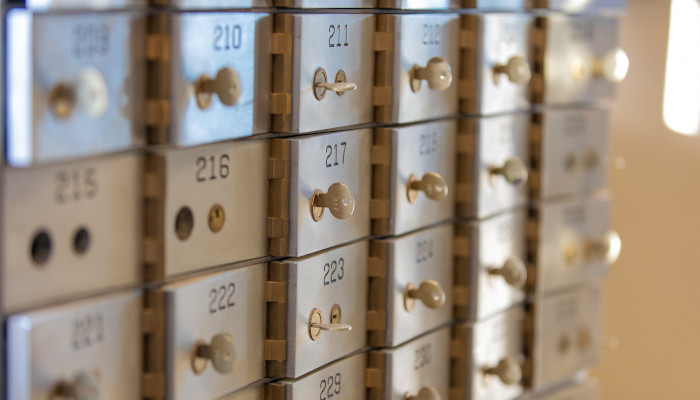 In a previous article for this site, we wrote about the importance of taking care to thoughtfully organize, store, and safeguard your estate planning documents when you have the chance. This includes coming up with a plan to keep your will, trust, powers of attorney, and burial documents safe from displacement, damage, or theft — while ensuring that your family or trusted advisors will be able to access those critical documents when the time comes. 
In this post, we wanted to explore a common situation that family members and fiduciaries may encounter on the flip side of the coin — accessing a decedent's safe deposit box following their passing. 
Opening a Decedent's Safe Deposit Box
There are a number of vital reasons why one may need to access a decedent's safe deposit box. For one thing, many individuals do ultimately choose to store crucial estate planning paperwork in a safe deposit box to protect it during their lifetimes. In other cases, safe deposit boxes may contain financial records or even personal property that must be accounted for and inventoried as part of the estate administration process. 
Michigan law makes provisions for the opening of a safe deposit box following a death. Different procedures exist for interested persons, fiduciaries, and surviving joint lessees. 
*Please note that this article will only reference the procedures that apply for decedents who passed after September 30, 1993. To discuss the proper procedures for individuals who died prior to October 1, 1993, we encourage you to contact an experienced Michigan probate attorney to discuss your individual circumstances in more depth.  
All Interested Persons
An interested person -— which might include an heir, devisee, child, spouse, creditor, beneficiary, or any other person that has a property right in or claim against the estate of the decedent — can petition the court to open a safe deposit box leased to the decedent by a safe and collateral deposit company, trust company, corporation, bank, or other institution. 
The petitioner must have reason to believe that the safe deposit box may contain a will or a deed to a burial plot in which the decedent is to be interred, and the safe deposit box must be located in the county in which the probate court has jurisdiction.
In such a situation, the court may issue an order directing the institution to permit the interested person to examine the safe deposit box in the presence of an office or other authorized employee of the institution. 
If a paper purporting to be a will of the decedent or a deed to a burial plot is found in the box, the person named in the order must deliver the will or deed to the probate register, who will then furnish a receipt. 
Any item contained in the safe deposit box other than the will or deed cannot be removed from the safe deposit box. All individuals in attendance at the time the box is opened must execute a written statement certifying whether a will or deed to a burial plot was found, and that no other items were removed. This statement must be delivered within seven days after execution to the probate register.
Before the court enters an order, a fee of $10.00 must be paid to the probate register. If the decedent's estate is administered in a probate court in the state, the party making payment of the fee may file a claim in the estate for that amount, which would be charged as a cost of administration.
Estate Fiduciaries
An appointed fiduciary such as a trustee or personal representative may open a decedent's safe deposit box and remove its contents However, if the safe deposit box is jointly leased, then the fiduciary may only examine the safe deposit box in the presence of an officer or another authorized employee of the institution.
At the time of the opening of the safe deposit box, all individuals in attendance must execute a written statement certifying as to what, if anything, the fiduciary removed from the box. The fiduciary must serve a copy of that statement to the other joint lessees within seven days of removing the items.
Surviving Joint Lessees
Broadly speaking, if the safe deposit box was leased jointly, any surviving joint lessee will continue to have full access to the safe deposit box after the passing of the decedent. 
Because of the ease of access and lack of restrictions, it is often advisable to name a joint lessee on your safety deposit box while you have the opportunity — so that your spouse, child, or a trusted representative can access the contents of the box and move forward with estate administration swiftly and confidently. 
Get the Answers You've Been Searching for from Michigan's Probate Experts
If you want to ensure your final wishes are carried out, legal help from our experienced probate and estates attorney Dean E. Patrick can make it happen. Getting guidance from an attorney iis the first step in making sure your possessions and the people you care about are taken care of when you're gone.
And if you are a trustee, personal representative, or otherwise involved in the administration of an estate, last will, or trust, you probably have questions. We can provide informed professional advice to guide you through the legal process, explain your legal obligations as a fiduciary, and help you discharge your duties in an efficient and expedient manner to avoid personal liability.
Whether you have decided it's time to plan for your family's future or you have any probate-related issue that has interrupted your life, you and your family can rest assured knowing that our office is handling your matter with the professionalism and expertise it deserves. 
Our meeting schedules are flexible in order to accommodate your needs, and we work hard to discuss these difficult matters in terms that are easy to comprehend. Our office is conveniently located in Southfield, Michigan and our staff is available 24 hours a day, 7 days a week to receive phone calls and help you with your legal matters. Do not hesitate to give us a call at (833) 469-4897, or click here to arrange your initial consultation. 
This post has been prepared for general information purposes only. The information you obtain here is not, nor is it intended to be, legal advice. You should consult an attorney for advice regarding your individual situation. We invite you to contact us and welcome your calls and electronic mail.  Accessing the content of this site does not create an attorney-client relationship.  Nor, does contacting us create an attorney-client relationship. Please do not send any confidential information to us until such time as an attorney-client relationship has been established.